Kick his @ss!! is, right now, the first episode of Equals Three.
Kick his @ss!!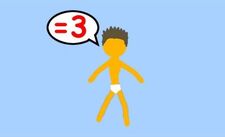 Videos Reviewed
Edit
This is the Troll's first appearance.
This isn't Ray's first video, but it is the earliest one known because Ray deleted his earliest ones for unknown reasons.
The Show Was Done In A Style To Harry Hill's TV Burp,Russell Howard's Good News & Seann Walsh World Because Ray Don't Use A Singing Act Or Mystery Guest
Fans Say Equals Three Was The First Tosh.0
Comment Question of the Day
Edit
...today's question comes from a user named djnjallday, and they said:


Why did the Chicken cross the Road?